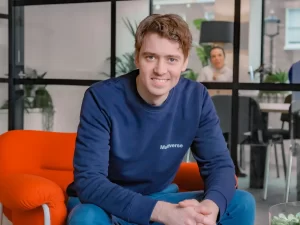 Artificial intelligence training is as important for students as maths and english according to Multiverse, the training company set up by Tony Blair's son.
Euan Blair's apprenticeship organisation has announced a new AI training programme from September to help train thousands of apprentices across the UK, delivering on-the-job experience in AI.
A poll of 1,000 business leaders by Multiverse revealed that AI training is a top priority for businesses with 83 per cent planning to introduce 'urgent' training for staff.
Rebecca Agostino, VP of Delivery at Multiverse, said:  "We've been working on AI for many years internally at Multiverse, supporting some of the most exciting AI companies with their skills strategies – and in the coming years, I strongly believe that AI skills will be just as important for workers as English and math are today."
"This is an urgent cause: when we polled our apprentices, around half weren't using ChatGPT in their daily work. That's a massive missed opportunity which, unless corrected, could see them falling behind. We shouldn't leave it to chance, and instead go out of our way to ensure workers have the skills they need to capture the benefits of these tools" she continued.
Sjuul van der Leeuw, CEO of Deployteq, commented: "With AI set to make a seismic impact on the way we work and live our daily lives, equipping the next generation with the latest skills in this area should be a top priority. Ensuring this technology is used effectively and ethically across key industries is also key, so having high standards of training in education and working life in place will help bring the greatest benefits for UK PLC."
Read more:
Teaching AI as important as Maths and English, claims Euan Blair's start-up